Today at store (Cash payment)
Today at store (Cash payment)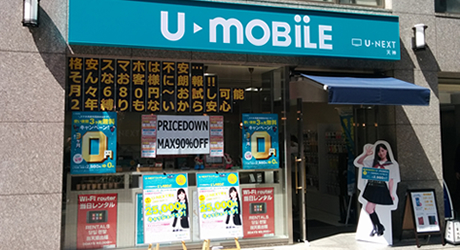 If you want to rent and pickup today, come to our store directly.
Rent your WiFi router TODAY at "U-NEXT Store Tenjin".
GET FREE !
Preminum Code of "the TRAVEL JAPAN Wi-Fi"
Lean more >
Rental Steps
Step 1 Order at Store
An identification card is necessary for an application.
*We charge 10,000 yen as a deposit.
Step 2 WiFi Setting

From the WiFi setting, choose the SSID (WiFi model) and enter the password.
Step 3 Return at Store

When you return WiFi unit.
bring it to the U-NEXT Store Tenjin.
*We repay a deposit.
Rental fee
Rental Price = "Rental fee" + "Insurance Service (Optional)"
* All prices are excluded tax. Consumption tax will be added.
Rental Device

SoftBank Pocket WiFi
304HW
Payment
Cash
Initial fee and process fee
0 yen
Rental fee
(Including
communication
costs)
1 day
2,000 yen
2 days
3 days
4 days
2,500 yen
5 days
3,000 yen
6 days
3,500 yen
7 days
4,000 yen
8 days
4,500 yen
9 days
5,000 yen
10 days
5,500 yen
11 days
6,000 yen
12 days
6,500 yen
13 days
7,000 yen
14 days
7,500 yen

15 ~ 31 days

8,000 yen
Insurance Service
500 yen
Deposit
10,000 yen
Broken or lost reimbursement:
WiFi Unit 40,000 Yen、AC adapter 2,800 Yen、USB cable 2,000 yen、Battery cover 1,000 yen、SIM 3,000 yen、Battery pack 3,800 yen
Insurance Service (optional)
Insurance service exempts user from the payment in the event that the unit gets stolen, damaged, or lost.
| | Insurance Service is not used | Insurance Service is used |
| --- | --- | --- |
| WiFi Unit | 40,000 yen | 20,000 yen |
There is a compensation application review before you get a compensation exemption. Depending on the examination result, you may not get a compensation exemption
Anshin Hoshou Service covers only the rental unit. Other accessories are not included ( AC adaptor, USB cable etc.)
In case of the lost or stolen unit, you need to get the certificate of theft from the police
If you get a compensation exemption, you cannot get compensation exemption for 3months
Maximum unit of a compensation exemption is up to 5 units.